For a list of the current crisis centers for MS click here to download and for additional victim service providers in the state click here
Rape crisis center programs are located in Biloxi, Columbus, Greenville, Hattiesburg, Jackson, Meridian, Natchez, Oxford and Tupelo. All agencies provide services without discrimination regarding race, ethnicity, disability, or marital status.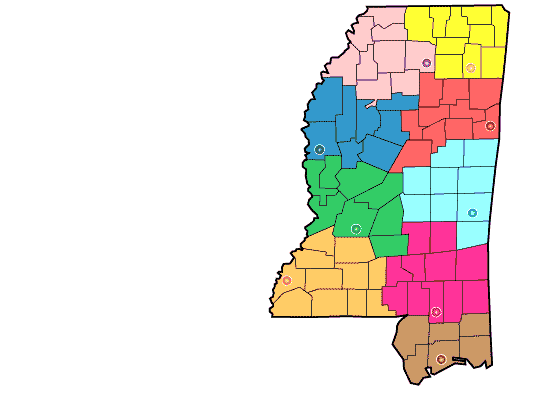 Please move your mouse around each different colored region on the map to read about the nearest sexual assault crisis center.
S.A.F.E. Inc.
P.O. Box 985
Tupelo, MS 38802
(662) 841-9138 Phone
(662) 680-5785 Fax
(800) 527-7833 Crisis Line
www.safeshelter.net

Gulf Coast Women's Center for Non-Violence
P.O. Box 333
Biloxi, MS 39533-0985
(228) 436-3809 Phone
(228) 435-0513 Fax
(228) 435-1968 Crisis Line
(800) 800-1396 Crisis Line
www.gcwcfn.org

Our House, Inc.
P.O. Box 3956
Greenville, MS 38704
(662) 334-6873 Phone
(662) 334-6875 Fax
(662) 332-LOVE (5683) Crisis Line
(888) 884-LOVE (5683) Crisis Line
ourhouse@ourhousenewbirth.com
www.ourhousenewbirth.com

Catholic Charities, Inc.
Guardian Sexual Assault Center
109 S. Union Street
Natchez, MS 39120
(601) 442-4579 Phone
(601) 445-9560 Fax
(888) 721-5460 Crisis Line
www.catholiccharitiesjackson.org

Wesley House Community Center, Inc.
East Mississippi Sexual Assault Center, Inc.
P.O. Box 1207
Meridian, MS 39302
(601) 485-4736 Phone
(601) 485-4739 Fax
(601) 485-2828 Crisis Line
www.wesleyhousemeridian.org

Family Crisis Services of NWMS, Inc.
P.O. Box 1698
Oxford, MS 38655
(662) 234-9929 Phone
(662) 234-9305 Fax
(800) 230-9929 Crisis Line
office.fcsoxford@gmail.com
www.oxfordadvocacy.org

Shafer Center for Crisis Intervention
USM Box 10016
Hattiesburg, MS 39406
(601) 264-7078 Phone
(601) 264-7777 Fax
(601) 649-1721 Laurel Office

Safe Haven, Inc.
P.O. Box 5354
Columbus, MS 39704
(662) 327-2259 Phone
(662) 329-1939 Fax
(800) 890-6040 Crisis Line

Catholic Charities, Inc.
Jackson Rape Crisis Center
200 North Congress Street, Suite 100
Jackson, MS 39201-2248
(601) 366-0750 Phone
(601) 960-8493 Fax
(601) 982-7273 Crisis Line
www.catholiccharitiesjackson.org

---